Baby it's cold outside. I've been humming this song most of the week, although now we're singing in the rain outside Paris. While singing, this Chestnut Vanilla ice cream has been churning for a light and easy dessert to finish off a big holiday menu.
My youngest daughter is mad about chestnuts in all forms. If I mention this magic word, Lucie's smile makes me melt quicker than the contents of this bowl. She's obsessed about roasted chestnuts: either simply tossed along with pumpkin, bacon, or with green beans, or willing to sacrifice precious pocket money for an expensive poke at the exit of a Paris metro station.
She nibbles at luxury marrons glacés as if she was Charlie with a golden-ticketed chocolate bar, and pleads for marrons glacés macarons. She also craves the sweetened chestnut spread that is so common in France, by way of Clément Faugier. But I won't ramble since that's already covered in my blog post: Chestnuts! From Pancakes to Ice Cream to Macarons.
 Then I realised that I hadn't yet posted this recipe for chestnut vanilla ice cream. Mon Dieu!
When you're as mad about macarons as I am (and I know I'm not alone on this one – come on, own up), you need to use up plenty of egg yolks while you're ageing your whites for making them. Ice cream is one of my favourite egg yolk recipes, as it uses up 8 yolks in this easy, classic recipe. Ideally, it's best to have an ice cream machine. I don't have one, but use the ice cream attachment for my Kitchen Aid that still does the job well.  If you don't have a machine, then just take the cream out of the freezer every 30 minutes (about 5 times) and mix up the partially frozen mixture well.
Chestnut Vanilla Ice Cream Recipe
Makes 1 litre
8 egg yolks
100g caster sugar
400ml whole milk
200ml whipping cream
1 vanilla pod
pinch of caramel powdered colouring (optional)
2 small 100g tins of sweetened chestnut purée
a handful of broken marrons glacés (or whole ones if you're feeling posh)
1. Cream together the egg yolks and sugar in a large bowl until light and fluffy.
2. Heat the milk and cream in a heavy-based pan with the vanilla pod, cut in two lengthways. Bring to the boil, and turn off the heat for the vanilla to infuse in the creamy milk for 5-10 minutes. Scrape out the seeds from the pod and add to the cream.
3. Pour the creamy milk onto the egg mixture whisking continuously. Return the mixture to the pan on a medium heat, whisking constantly until the custard thickens and coats the back of a spoon. Remove the vanilla pod and set the mixture aside to cool.
4. Once cool, place in the fridge for 1-2 hours before pouring into an ice cream maker to churn.
Serve with marrons glacés and macarons, but of course.
Which leads me to apologise to many friends for appearing as cold as ice cream when it comes to saying hello just now. Truth be told, I'm struggling to keep up with the normal Mum duties, plus a couple of extra projects. Do you find you can do nearly everything on your daily list, except there's always at least one biggie that constantly nags at you? It's feeling hard to please everyone. But hey, just trying to stay cool – and eat ice cream.
There are also a few upgrades currently underway on the website, since wouldn't it be useful if you could actually do a search on the blog plus recipes and find stuff?  New pages are also coming. Bigger pics. Ouff! Lots to look forward to.
Until my next blether, macaronivores.
Bonne semaine!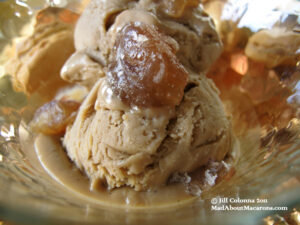 https://madaboutmacarons.com/wp-content/uploads/2012/01/chestnut-vanilla-ice-cream.jpg
491
490
Jill Colonna
https://madaboutmacarons.com/wp-content/uploads/2015/04/logo-mad-about-macarons.png
Jill Colonna
2012-01-21 15:33:41
2016-11-04 19:10:26
Chestnut Vanilla Ice Cream