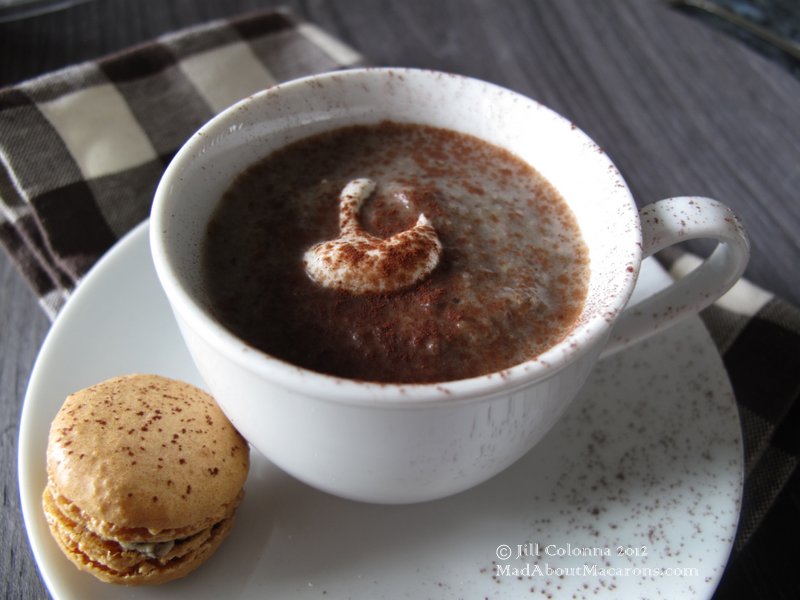 Just look at this tray of healthy looking cremini mushrooms from the market – just perfect for a mushroom cappuccino. When I first bought mushrooms in France, it was amazing to see how they were sold with such large stalks and earthy feet as opposed to the pale, pre-packaged mushrooms presented in cellophane punnets looking as clean as a button in supermarkets.
As Autumn is winding its way around Paris, it's high time to return to macaron madness with mushroom and truffle macarons. Have you tried savoury macarons? In France, they're great as an apéritif – my favourite part before the meal that has urged me to become more French over the last 19 years here.
Serve with Champagne or a white wine from the Jura or an Alsacian Riesling but in this case, why not serve these mini macarons with the cutest little mushroom cappuccino for an amuse-bouche teaser or as a bigger appetiser/starter to a special meal? Surprise your friends.
For the macaron shells, follow the basic recipe from the book (using less sugar – see page 97.) While beating the meringue to stiff peaks, add just enough brown (3/4 coffee spoon) with a slight hint of yellow (1/4) powdered colouring and a dash of cayenne pepper, then pipe out the macaron batter into the smallest, cutest rounds you can. Using a smaller, 6mm plain tip makes this easier.
Top Tip for Cooking Mushrooms
To make the filling, sauté 100g cremini mushrooms until they sweat off all their liquid* and add them to 100ml whipping cream, infusing them over a low heat for 15 minutes. Blitz with a hand blender or processor and add a dash of good quality truffle oil. Whisk an egg with 10g cornflour in a small bowl then add to the cream and mushrooms and keep whisking over a medium heat until the sauce thickens. Set aside to cool, then whisk in 20g softened butter then fill the macarons.
* Tip: fry the mushrooms in a dry, non-stick pan. There's no need for any extra butter or oil. Keep sautéing them until they give off their liquid and you'll end up with healthy, natural mushrooms that are concentrated in flavour (and not dripping in oil!)
This mushroom cappuccino is full of flavour and complements the macarons well. I prefer using cremini or portobello (giant cremini) mushrooms since I find they have more flavour than the normal white button mushrooms. Adding the truffle crème fraîche on top with a dusting of unsweetened cocoa powder (I use Van Houten 100%) just finishes off le cappuccino look. Here I used crème fraîche to make this quickly, but if you prefer frothing up some whipped cream, then this will have a more authentic look.
Mushroom Cappuccino Recipe
Preparation Time: 20 minutes
Cooking Time: 35 minutes

Serves 6
600g cremini or portobello mushrooms, cleaned and chopped
1 onion, finely chopped
25g butter
1 litre chicken stock
1/2 tsp cayenne pepper
1 tbsp crème fraîche
1 tsp truffle oil
1. In a large, high-sided pan, cook the onion over a medium heat in the butter without browning for about 5 minutes. Remove the onion from the pan then throw in the chopped mushrooms and sauté them until they give off all their liquid. Add the cayenne pepper and return the cooked onion to the pan.
2. Add the stock and leave to cook on the lowest heat until the liquid reduces by at least a quarter for about 30 minutes.
3. Blend and froth up the soup using a hand blender and season to taste.
Serve in coffee cups with a blob of crème fraîche mixed with some good quality truffle oil and dust with unsweetened cocoa powder; or what about dusting it with dried porcini mushrooms that have been whizzed in a spice grinder to create a concentrated mushroom powder?
Summary
Recipe Name
Author Name
Published On
Preparation Time
Cook Time
Total Time
https://madaboutmacarons.com/wp-content/uploads/2012/09/mushroom-cappuccino-with-savoury-macarons.jpg
600
800
Jill Colonna
https://madaboutmacarons.com/wp-content/uploads/2021/05/logo-mad-about-macarons.png
Jill Colonna
2012-09-24 00:10:01
2021-06-29 19:04:32
Cremini Mushroom Cappuccino with Mini Macarons