Why is it when you live so close to something truly amazing and touristy, you avoid it? Antoine and I lived in rue Bosquet for 5 years, just a few minutes walk from the Eiffel Tower and yet we went up only after we moved out of Paris. Then last weekend – after 19 years of living here – we finally drove 45 minutes up the A13 to a summery Giverny, Claude Monet's haven near the river Seine in Normandy.
The secret is to leave early and get there for opening time at 9.30am so that there's not much of a bouchon (traffic jam) on Monet's Japanese bridge. Last year there were 611,000 visitors so believe me, this is important. The house and gardens have been open to the public since 1980. It needed 10 years of renovation (with major donations from the USA) after the house and garden's neglect after the Second World War.
Such a wet summer to date has been good for the lush greens of the gardens.  Most of the flowers are seen in the Clos Normand, in front of the house. What a lovely idea to have an avenue of nasturtiums up to the front door. Imagine how many summer salads you could decorate with these (and eat)?
Just a few snapshots of the hundreds of flowers and plants on show. Claude Monet set to planting and sowing seeds as soon as he arrived in 1883 and his house is filled with volume upon volume of plant encyclopaedias and Japanese prints. Giverny's talented gardeners continue to succeed in showing different varieties all through the year, as the seasons change.
You can see why the master of the Impressionists lived in this idyllic spot for nearly 46 years (1883-1926.)  Seeing the water garden live for the first time, it was just as he had portrayed them in his works of art. Do you recognise them?
Unlike Japanese bridges painted in red, Monet painted his bridge in bright green. Everyone around the garden's visitor route was transfixed on the lily pads and nymphéas, made so famous by his paintings of them started in 1897. My girls loved watching an cute ugly duckling hobbling from lily pad to the next.
There wasn't much to visit in the house, to be honest, and there is a lack of information as to what you're seeing. Unfortunately photos were prohibited inside. His living room was impressive and although it's filled with replicas, it's still incredible to think he would lie on his chaise longue, puffing on his pipe while looking up at his masterpieces. Photos of Monet are around the house. Do you love looking at old photographs?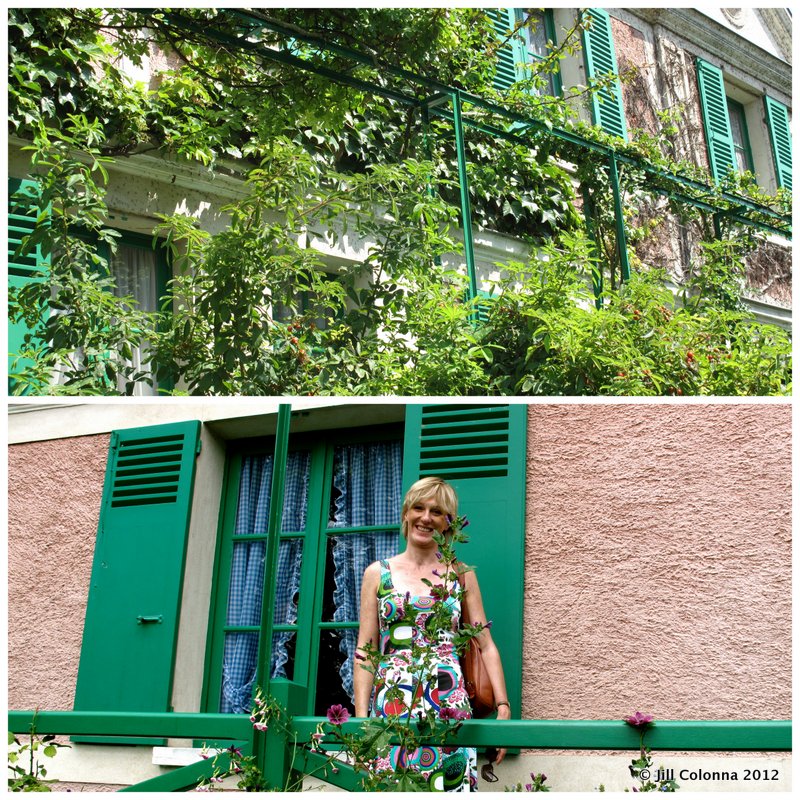 Standing outside Monet's kitchen window: somehow with lace curtains around the house or that check and shutters you can tell we're in France. Just up the road, the Hotel Baudy welcomed guests – particularly many American painters who came to Giverny for inspiration and to meet Monet.
To see Monet's lilypond paintings, visit L'Orangerie Museum, the Louvre and the Orsay Museum in Paris. For more of his paintings – including the original painting, Impression Sunrise, which gave Impressionism its name – visit the Marmottan Museum in the 16th Arrondissement. They even have his pipe, if you're particularly sentimental like myself.
After our meander up to the church to pay our respects to the great artist as well as locals who didn't make their return to the village after the World Wars, it was time for a picnic. A short drive further up the Seine, we found the perfect spot underneath a weeping willow tree with our toes dangling into the river. The ideal, idyllic summer spot in the shade, imagining Monet capturing the scene on his floating studio.
He's still making an impression on us in different ways: we can't all sport white beards but the look in Giverny is this straw hat; we're also spending a few days in New York City at the moment and this lily pond is following us around Manhattan through his water lily paintings! More on that later.
What impression do you have from Monet's garden?
https://madaboutmacarons.com/wp-content/uploads/2021/05/logo-mad-about-macarons.png
0
0
Jill Colonna
https://madaboutmacarons.com/wp-content/uploads/2021/05/logo-mad-about-macarons.png
Jill Colonna
2012-08-23 05:58:43
2021-02-19 15:57:42
Giverny and Inspiration from Monet's Gardens