Trust the French to transform just a few simple yet good quality ingredients into a most elegant dessert. This dark chocolate mousse is also an extremely light chocolate mousse. Unlike many recipes I've tried, this one essentially consists of dark chocolate with whipped egg whites. So, it's a light yet dark French chocolate mousse – without any cream!
It's not unlike this egg white-based light-as-a-feather white chocolate mousse with orange blossom but this dark chocolate one is decadent for serious chocolate lovers.
Just before Julie left recently for her new studies in London, I'd asked what she'd love as her favourite meal together as a special send-off.  It was classic lasagna (it was also a toss-up for this Corsican Cheese and Spinach Lasagne), loads of unpasteurised cheese, followed by this dark chocolate mousse for dessert.
Her list didn't stop there, though; she added, "and a batch of chocolate, chestnut and cinnamon macarons, please." with her most beautiful eyes sparkling over a cheesy grin that melted my heart. How can a Mum refuse that?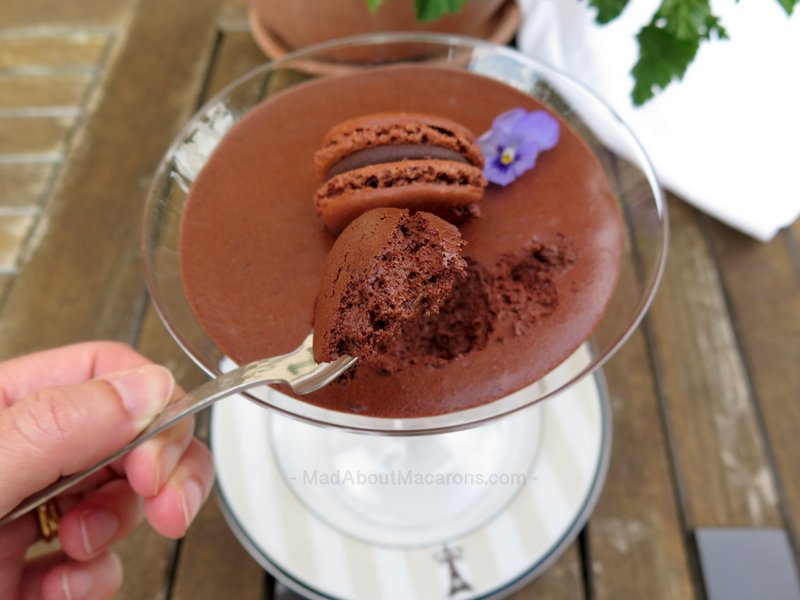 So, as you can see, her wish was granted – including an extra bonus of unusually warm weather so that dinner was outdoors – and before I could say, "Let's keep some macarons for teatime tomorrow …." the whole lot disappeared.  I wasn't complaining; I'd kept the other box aside, hidden at the back of the fridge! Although, they've got used to that trick by now so ended up putting the rest in the freezer.
Incidentally, the recipe for the dark chocolate macarons with chestnut and cinnamon is in my book, Teatime in Paris.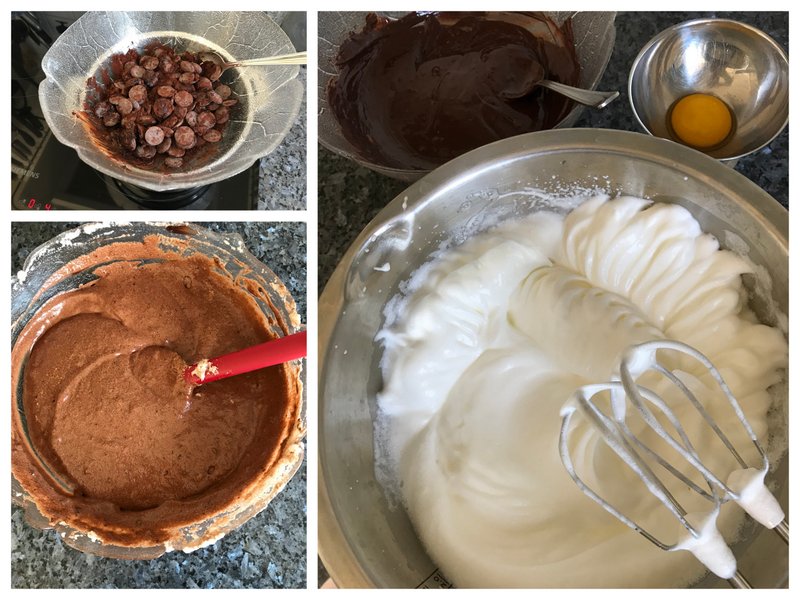 Classic French Chocolate Mousse Recipe
As you can see from the recipe card below, the recipe is so easy: it's basically melting (good quality) dark chocolate and unsweetened chocolate powder together over a pan of simmering water, then adding one egg yolk and whipped up egg whites with sugar. Although slightly tweeked with more dark chocolate, less powder and the addition of salt, this is my favourite recipe inspired by Raymond Blanc.
Speaking of Blanc, this recipe uses many egg whites. Only ONE egg yolk is used, so I'd suggest making any of the recipes from the egg yolk recipe database in advance. That way you can put aside plenty of egg whites (I normally store them in a clean jam jar in the fridge for up to 5 days) to make this mousse – and indeed, homemade macarons!
French Chocolate Mousse – No Cream!
A classic French chocolate mousse like this doesn't need any cream. The egg whites make this light and fluffy and we can appreciate the good quality of the chocolate.
As the dark chocolate mousse was chilling nicely in the fridge, we popped along to Wood Cottage in Le Vésinet (just west of Paris, in les Yvelines), for a FREE (!) jazz concert.  How lucky everyone was that day with such glorious weather. Now classed a historical monument, the 1864 Wood Cottage buildings look remarkably like chocolate, don't they?
While we're on the subject of chocolate, stay tuned for the most incredible chocolate shop personality just 5 minutes' walk from Le Moulin Rouge in Montmartre, à l'Etoile d'Or with Denise Acabo.
Have you made any of the recipes from le blog, my books, or fancy making this dark chocolate mousse recipe?  Please leave a comment below or take a picture and hashtag it #MadAboutMacarons on Instagram / Facebook, or just tell your friends to join me on le blog! Thanks so much – I love to see you enjoying the recipes!
French Dark Chocolate Mousse Recipe
French Dark Chocolate Mousse
A French classic with no cream: a light and intensely bittersweet dark chocolate mousse for serious chocolate lovers - topped with the most fondant macarons.
Ingredients
170

g (6oz)

dark (bittersweet) cooking chocolate

best at 70% (but no less than 64%)

15

g (0.5oz)

unsweetened cocoa powder

(I use Van Houten)

290

g (10.5oz)

organic egg whites

(from approx. 10 eggs)

30

g (1oz)

sugar

1

organic egg yolk

pinch

salt

fleur de sel
Instructions
Melt the chocolate and cocoa powder together in a bowl over a pan of simmering water (Bain-marie), taking care not to overcook the chocolate (don't have the water at a rolling boil, just simmering gently). As soon as the chocolate is easy to stir, switch off the heat and stir until smooth, keeping the bowl over the pan to keep warm.

In a clean bowl, whisk the egg whites (using a stand mixer or electric beaters) with the sugar until soft peaks form.

Quickly stir in the egg yolk and half of the fluffy egg whites then fold in the rest of the whites using a spatula, adding the pinch of fleur de sel salt.

Spoon into serving glasses and place in the fridge to chill for about 1.5 hours until ready to serve.
Recipe Notes
Serve with good quality chocolate macarons (see the recipes in both my books), crispy almond tuiles, or garnish with edible flowers. If you really want the cream, add a dollop of freshly whipped Chantilly cream.
Jill Colonna
https://madaboutmacarons.com/wp-content/uploads/2018/10/dark-chocolate-mousse-macarons-recipe_opt.jpg
230
306
Jill Colonna
https://madaboutmacarons.com/wp-content/uploads/2019/12/logo-mad-about-macarons.png
Jill Colonna
2018-10-08 17:37:01
2020-05-26 18:04:31
Lightest Dark French Chocolate Mousse