If you're looking for a much lighter version of mince pies this Christmas, then here's your answer: Mincemeat Pinwheels!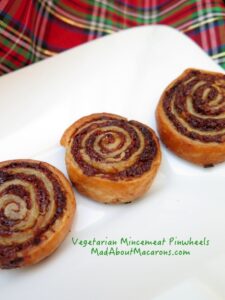 Mincemeat always causes confusion with French friends (especially my husband, who can never get his head around this one), as they tend to think it's savoury and filled with minced beef. It's true that beef suet is still traditionally used along with the dried fruits and spices but I have to admit that I prefer it without the suet. So, after making this delicious vegetarian (no-suet) mincemeat with added apple the other day, I was itching to make something with it.
I normally make pinwheels for savoury apéritif bites using pesto or tapenade, but this mincemeat was just perfect for an impromptu Christmas party for a few teenagers coming around for a break from exam pressure last weekend and to get into the festive spirit.  Needless to say, there were also a few macarons too from Teatime in Paris!
Freezing Puff Pastry
The best part of this recipe is that it's so handy to prepare the first three steps 2-3 weeks in advance and have it at the ready in the freezer (ensure that you're not using frozen puff pastry in that case!). Just leave it out for a few minutes so that it's easier to cut into slices with a sharp knife rather than find a chain-saw – then bake!
Serve mincemeat pinwheels with Mulled Wine – here's a super recipe for Mulled Wine Syrup at Christina's Cucina.