French Salty Butter Biscuits from Brittany
Put just a few good quality basic ingredients together – salted butter, sugar, egg yolks, flour and baking powder – and what do you get? Irresistible Palets Bretons, the French popular buttery cookie!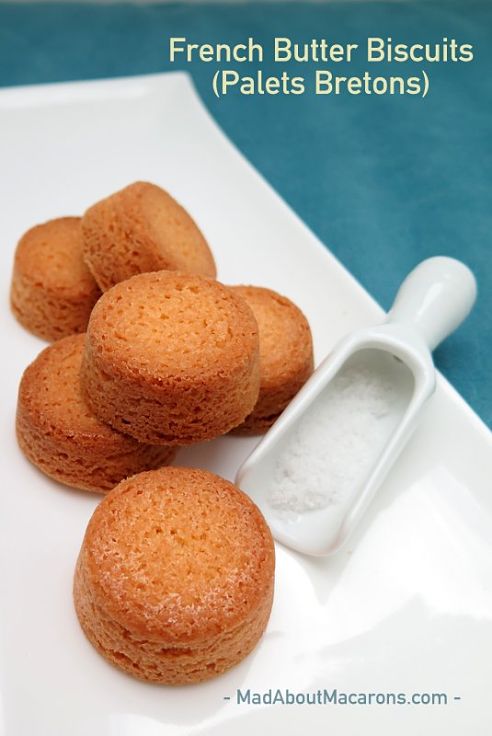 These delicious sweet yet salty butter biscuits (cookies) may not be found in patisseries around Paris but I guarantee you'll find them lining the aisles of sweet munchies in French supermarkets. But let me warn you: once you make them, you'll not want to buy the regular brands again.
Very like Sablés Bretons, which are a thinner and shiny salted biscuit/cookie resembling shortbread (Sablé means sand in French, referring to the crumb-like texture of the dough), Palets Bretons (meaning "Breton disks") are much thicker, airy and lightly crispy.
Perfect with an afternoon cup of tea, the best part is that Palets Bretons are not that sweet since they contain a large amount (about 20%) of the famous Breton salted butter from the North coast of France. This is what makes them compulsive eating!
Ideally, use good quality salted butter from Brittany for this recipe but – as this isn't always easy to find in the UK or USA – it's simpler to use unsalted butter and add good quality salt from Brittany such as fleur de sel from the Guérande, so that the resulting taste is more authentic.
I know you may be tempted to add vanilla, cinnamon, or lemon zest – but there's nothing to beat them plain. Not only that, this is a handy recipe to have up your sleeve as it serves as a base for many chic yet easy desserts like cheesecake, mousse or even if it's just a topping of pastry cream and fresh strawberries.
Many French chefs tell you to roll out the dough between two baking sheets and cut out circles using cookie cutters and bake them directly in pastry rings. As I'm making them at home and don't have that many pastry rings (who does?), I find it so much quicker and easier to roll out the dough into a sausage shape and bake them in muffin moulds.
More Buttery French Teacakes & Biscuits
Love buttery French teacakes and biscuits like these Palets Bretons? Enjoy similar, quick and easy recipes (and not too sweet) all in the first chapter of my second book, Teatime in Paris!
You'll find Financier teacakes (including gluten-free chocolate hazelnut), chocolate-filled Tigrés, Madeleines, Diamond biscuits, almond Tuiles, Canelés, Coconut macaroons … and that's just part of the first chapter!