How many chocolate storefronts do you know resemble dark chocolate?  Every time I walk past the Chapon boutique in Paris's growing sweet-lined rue du Bac, I could almost lick off the writing imagining it's made of cocoa butter and gold leaf.
You may remember my visit to the first ever Bac Sucré Event in June this year (update: and again here in 2016), where I already wrote a bit about Chocolaterie Chapon. During the event, my daughter Lucie and I signed up for a short talk by Patrice Chapon, explaining how he has been making his chocolate since 1985 from "bean-to-bar" from his workshop in Chelles (a suburb 20km north-east of Paris).
Originally a restaurant chef then pastry chef in Deauville, I love how Monsieur Chapon then popped over the Channel for a short stint as official ice-cream maker to the Royal Family at Buckingham Palace – how cool is it to have had the Queen Mother surprise you one day with rose petals from the royal gardens, asking you to make a sorbet with them? After inspiration from Harrod's food hall, he realised his real vocation was back in France making chocolate and by 2005, he opened this second shop in Paris.
It takes 10 days to make the chocolate as we see it in the store. Even the cacao growers in the tropics (10° North or South of the Equator) are amazed at what final result can be achieved from these simple looking beans.
He procures the beans after they've been fermented and dried, then does the rest himself. He grills them – 20 kilos at a time – for about 30 minutes at 105°C until they start to smell and taste like chocolate, even if still bitter at this stage. After grinding to obtain cocoa nibs then 8 hours maturing, he adds sugar (and powdered milk for milk chocolate), he continues to grind then liquify the cacao by a method called conching. Any acids or bitterness disappear after at least 48 hours and as if by magic, the end result after tempering and mixing, we're left to discover the end result.
Tasting our way through the characteristic tropical-patterned packaged chocolate bars, each variety has its own subtle but particular flavours: Cuba has notes of spice and exotic fruits, Lucie agreed that Ghana has banana notes, and Madagascar has real after-notes of red fruits.
With wide-eyed children looking on at the generous samples laid out in front of us, Chapon surprised them with his witty Willy Wonka remark in French, "With this ticket, adults have a tasting of a chocolate mousse cone; children have their tasting of salsify" (which is a popular root that's served as vegetable here, especially I hear at the school canteen). Their confused expressions were quickly transformed as their eyes feasted on chocolate lollipops.
My eyes were for the salted praline Dômes au Sel, winners of the Mairie de Paris Chocolate Grand Prix in 2003.
True to the chocolate bars, the mousses were so dense in chocolate, yet light and airy.  Chapon states that he uses about 20-30% less chocolate in his mousses due to the high cocoa content than more standard chocolate mousses that our grandmothers made.
As I left the boutique, realising again that I'd bought way too much chocolate (confessions of a chocoholic), I noticed that the recipe for the legendary chocolate mousse was printed on the brown paper bag.
With so many chocolate varieties to choose from, I thought I'd be adventurous and go for the 100% pure cacao Rio Caribe of Venezuela.  On the tablet's back label, it even specifies "100% minimum", which would excite any cocoa connoisseur!
If I have to make one remark, the recipe's chocolate quantity of 185g isn't that ideal for us shoppers, since most of the tablets are 75g and so with two bars I was 35g short of pure Venezuela.  As it's 100%, also note that it's drier than most classic mousses.  The aftertaste is intense – a little goes a long way to appreciate the flavours. Just as in wine-tasting, I'd even go as far as to say that this chocolate mousse is earthy or as we say in wine terms, "sous bois" or undergrowth (for more on tasting, see my post about different notes on the nose).  It was almost leafy or, dare I say, mossy. In French, moss is mousse – so I'll leave you to groan at your own pun!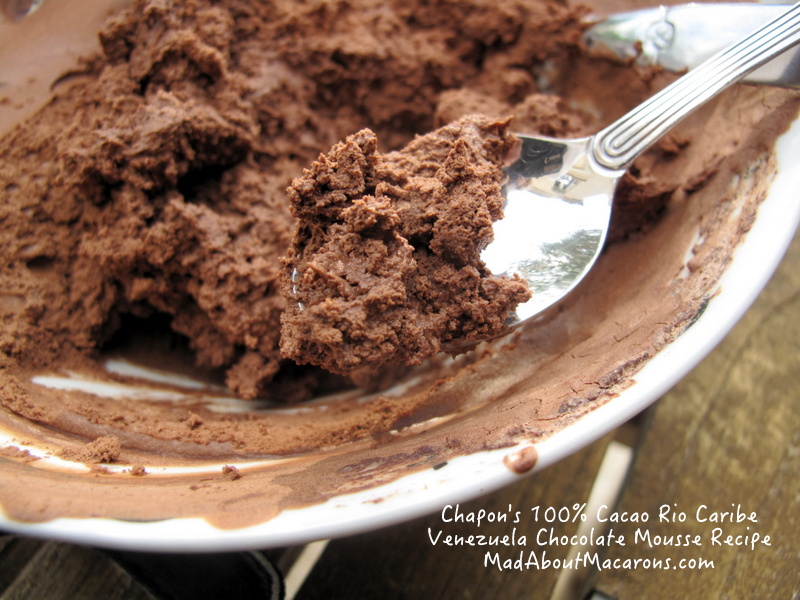 Pure 100% Cacao Chocolate Mousse Recipe by Patrice Chapon
Patrice Chapon states the best chocolate to use for his mousse is either Equagha, équateur, Mexique or 100% Rio Caribe. His new tablet, Brésil, would also be good.
185g Pure Origin Chocolate Chapon (I used 100% Venezuela Rio Caribe)
100g semi-skimmed fresh milk
1 egg yolk
6 egg whites
37g cane sugar
1. Heat the milk until it boils. Grate the chocolate in a large bowl.
2. Pour the hot milk over the grated chocolate and stir gently until well mixed using a wooden spoon.  Add the yolk and continue to stir until the mixture is brilliant.
3. In a separate bowl, whip up the egg whites using an electric whisk, adding half of the sugar at first and then at the end when they are whipped and fluffy (but not firm).
4. Gradually incorporate the egg whites, folding it in delicately until all mixed together and smooth.
5. Either keep it in the bowl or transfer to individual serving bowls (I would suggest little ones here, as this mousse is so intense!)
6. Refrigerate overnight (I suggest covering with cling film) and enjoy next day.
Serving suggestion: spoon into Almond Tuiles from my new book, Teatime in Paris!
If you're in Paris, either drop in and taste the mousse for yourself at Chapon's boutiques.
CHAPON
69, rue du Bac, 75007 Paris
Tel. 01-42 22 95 98
https://madaboutmacarons.com/wp-content/uploads/2015/10/Chapon-chocolate-mousse-recipe-no-sugar_opt.jpg
230
306
Jill Colonna
https://madaboutmacarons.com/wp-content/uploads/2021/05/logo-mad-about-macarons.png
Jill Colonna
2015-10-13 17:05:53
2021-01-21 14:58:51
Pure 100% Cacao Chocolate Mousse Recipe by Patrice Chapon