Roasted Nectarines

&

Lemon Verbena Ice Cream
What a summer! We're finishing it off with a heatwave, which hasn't been ideal for photographing ice cream in 37°C…
In true Paris fashion, I took a wonderful long break but I've missed you. With the girls preparing for the return to school – the French rentrée – at the end of the week I'm just as happy to return and share many recipes that we've enjoyed over holiday season in France.
If you know me by now, you'll have discovered that my favourite desserts are LIGHT and EASY to make
– but they also must have a little of that WOW factor.
The ultimate challenge while testing out this ice cream dessert has been serving it to friends who are not even fans of sweets or puddings – yet each time it has received a surprised note of ecstatic groans around the table. Why?
It's in its light simplicity, its natural subtle lemony surprise, and it's not that sweet.
With French fruit in abundance, what's not to love about a blistering simple roasted nectarine from Provence with a honey syrup?  The surprise comes from the hint of lemon, the pure creamy ice cream that uses mainly whole milk rather than heavy cream; it's not bright green but simply announces its natural subtle refreshing fragrance from the intriguing lemon verbena (or French verveine) which shines through with the minimum amount of sugar as I dare to use.
Last year I planted verveine in the garden.  I made a mistake since I never even used it in cooking then suddenly the chill of winter turned its leaves dark brown. I thought I'd lost it and just cut it right back.  This summer – surprise! It grew. And grew. Now it's a small bush!  Rather than just serve it as a typical herbal infusion before going to bed (Note: if you have the fresh stuff, it's nothing like the sachets), I wanted to try it in desserts.
You'll see: this is a winner!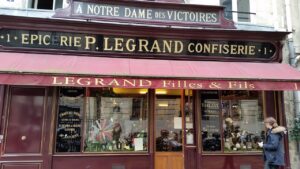 If you can't find fresh verbena, don't despair. Dried verbena leaves are the next best thing and can be found in most health food shops or groceries. In Paris, Legrand Epicerie stocks them all year round, for example.
Speaking of verbena, have you tried the recipe for lemon verbena éclairs yet from Teatime in Paris?