Salted Toffee Cherry Tomatoes
It's good to be back. What's more, it's during the most amazing tomato season. So let's make the most of the last of the summer wine – with salted toffee cherry tomatoes.
A few years ago, together with my French girlfriends who live in the Provençal tomato-ey south, we set about making these quick and quirky nibbles for a delicious aperitif.  Valérie had seen the idea in a French magazine (don't even ask which one as this is going back a bit!) and although we were a bit sceptical of crunchy caramel for an apéro with Chablis, we decided to give it a go as they looked so pretty – experimenting with one batch plain (as in the magazine) and another batch with the addition of salt directly in the caramel.  The salted version won hands down.
Last weekend, just before la rentrée when the French schools are finally happy to return to their friends and routine, a refusal to say goodbye to summer kicked in and I served them again. Outside – just before the rain said re-bonjour. I took to experimenting a bit more with different seeds, even more salt, and using different varieties of cherry tomatoes.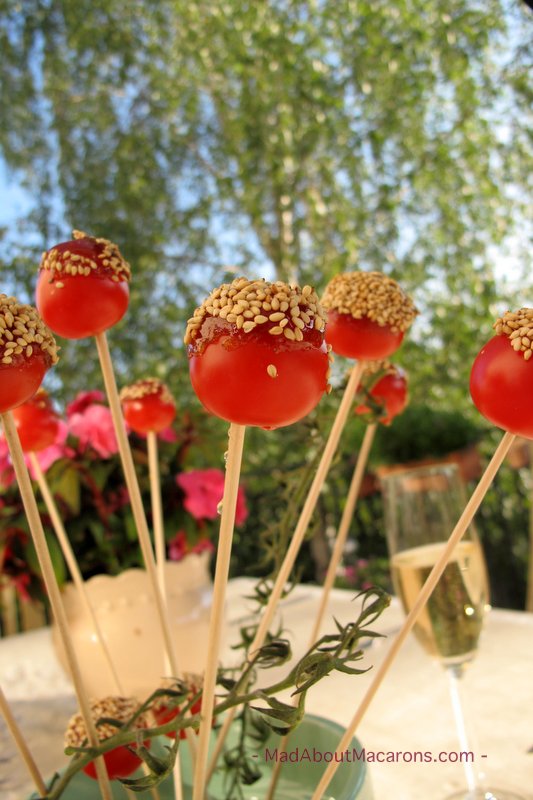 If you follow me on Instagram, you'd see the last stop on our holiday last month at the Château de la Bourdaisière, which boasts over 650 tomato varieties, the biggest collection of tomatoes in the world.  With such incredible produce plucked from the vines for lunch, simply doused with salt, pepper and a scant drizzle of olive oil, the family was reconciled with the humble, sweet tomato. (For more in this region, see my previous trip to the Loire Valley.)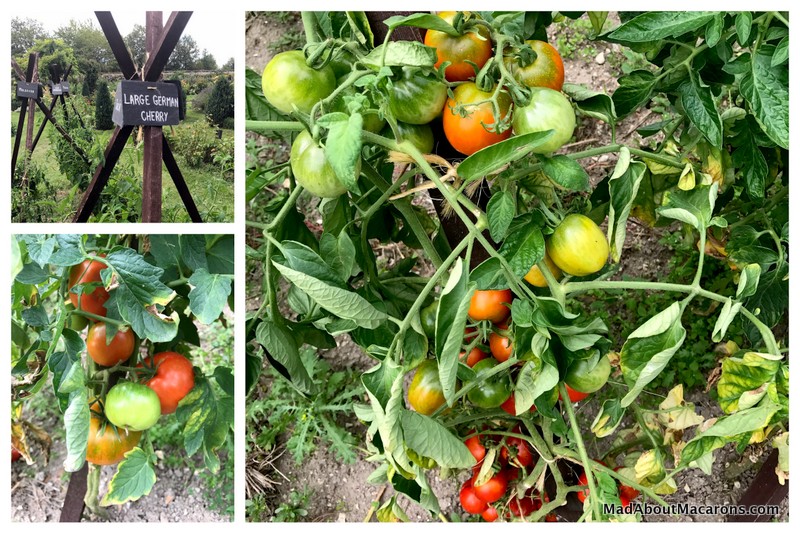 Salted Toffee Cherry Tomatoes
For the best flavour, do try your best to find the best quality produce and experiment with different colours and sizes of cherry tomatoes. Roll each toffee cherry tomato in a mixture of black and white sesame seeds, chai seeds and poppy seeds – adding the most beautiful of flower salt, or fleur de sel (I use fleur de sel from the Guerande) to add that extra salted toffee intrigue which renders them addictive.  Here I also added just a touch of thyme from the garden. I'll leave you to be adventurous on the toppings!
Cherry Tomato Macarons?
Also served for an aperitif, have you tried my Bloody Mary mini macarons yet?
The recipe is in my first book, "Mad About Macarons", as part of the mini savoury macaron chapter.
Cheers, Santé!